Are you using professionally edited photos and renders to market your building company?
If you're not using professionally edited photos and renders, you could be hindering your sales process. There are plenty of things that can affect the performance of your marketing or how far a prospect gets through your sales funnel, but one thing is true… Images sell.
You'd be surprised how much more your prospects will be engaged if they can easily visualise themselves in a new home. The best way to provide that experience, and get more prospects cruising through your sales process, is by using professionally edited photos and high quality renders.
We recently caught up with Tim and Peter from Box Brownie. If you've never heard of them, Box Brownie provides a range of digital image services. They mainly exist for real estate agents, but after chatting with Tim and Peter, it's obvious how valuable this kind of thing can be for builders too. So, if you head to their website, don't be put off by the real estate talk.
What Is Box Brownie?
So, what exactly does Box Brownie do? Well, the tagline on their website is 'professional photo editing, virtual staging, floor plan redraws and renders at an unbeatable price'. But here's the full breakdown of what they provide: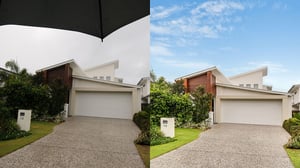 ✓ Photo Editing: Including simple image enhancements to get rid of those grey clouds, lighten up a dark room, or put some green into the lawn, as well as day to dusk twilight conversions.
✓ Virtual Staging: If you've just finished a home and need to take the photos before the furniture is brought in, you can add virtual furniture to images of an empty room.
✓ Floor Plan Redraws: Turn your CAD files, drawings or blueprints into 2D or 3D floorplans in multiple styles.
✓ Renders: Transform your interior and exterior drawings into visually appealing renders.
✓ 360° Virtual Tours & Renders: Transfer images of an already built home into a 360° virtual tour, or create a rendered tour before construction has even started.
Some of these may seem irrelevant for a builder... But we've taken a look ourselves, and there are some, that, if used correctly, could make a positive impact on your sales and marketing efforts.
Image enhancement is an easy win. When you finish a home and you have the final images that you'll give to your client and use on your website or in your marketing, you want them to look as good as possible. Simply adding a blue sky or brightening a room can make a huge difference to how your prospects will perceive the quality of the homes you build.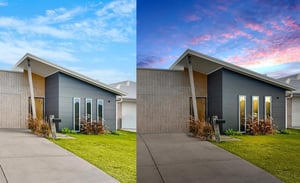 Day to dusk editing might be something you're not so familiar with, but don't brush it off just yet. When we caught up with Tim and Peter they told us a brief story about why this style of image is so popular. The twilight colours are more engaging - they make people more likely to be able to visualise themselves in the home. The darker setting and the lights on make it appear more like 'home'. A lot of real estate agents told them that the twilight converted photos got five times more clicks than the originals! So, adding a sunset and turning the lights on might be what entices more prospects to click on your ads and get in touch with you.
The obvious options that are beneficial to builders are the renders and floorplans. You can upload your CAD files or blueprints and create visually appealing images that help your clients see their home before you've even built it. This has the potential to become an asset to your sales process, especially when it comes to the concepts phase. Having the ability to show your prospects a stylised floor plan or a high-quality render of the home you've designed for them could be the icing on the cake that gets them over the line and into a building contract. You could even take it to the next level and have a 360° virtual tour created.
Why Box Brownie?
It really is an all in one solution for imagery and renders. Although it's mainly used by real estate agents, so that's where the majority of their reviews come from, Box Brownie has a five-star average rating on Google from 604 reviews. As with any business, it's not always perfect, so we've compiled a list of pros and cons Box Brownie users have identified:
Pros

Cons

Fast turnaround between 24-48 hours.

Quality is not always consistent.

The only automated system to lodge renders.

Extremely competitive pricing.

You can't zoom on the sample pictures.

Available in numerous countries and languages.

Turnaround times can be sporadic.

No subscriptions - pay for what you need.
A highlight for us is you only pay for what you need, and the prices for the individual jobs are pretty hard to beat. You do need to create an account to place an order, but that also means all your jobs are stored in one place. A simple image enhancement will only set you back around $2. Even floor plans can be created for as low as $30, depending on the style you want. Renders start from $350 and 360° virtual tours start at $500.
Special Offer From Box Brownie
If you're curious and keen to try Box Brownie's services, they've created a special offer just for followers and members of the Association of Professional Builders. If you sign up today, you'll receive a free exterior render valued at AU$350 (just enter coupon code 'APB' when submitting the rendering job!). On top of that, you'll also receive three image enhancements and one day to dusk twilight conversion free of charge.
Just click on the link below to sign up now.