Are you using construction project management software in your building company?
Gone are the days of managing all of your projects in a spreadsheet.
And if you're still doing it that way, you're falling behind thousands of other builders.
We live in a time where it's never been easier to manage a building company, thanks to software and tools that can automate things, like your project management.
If you aren't already using a construction project management system, you're probably wondering which one to use, because there are many to choose from, such as Commnia (formerly BuildTools), Procore and CoConstruct.
A popular option, with nearly 1 million users across the globe including a large percentage of members of the Association of Professional Builders, is Buildertrend.
Buildertrend was founded in 2006 in Omaha, United States on the simple belief that there's a better way to manage construction projects, and we agree - systemisation of building projects, and many other elements of the business, are an important part of running a successful building company.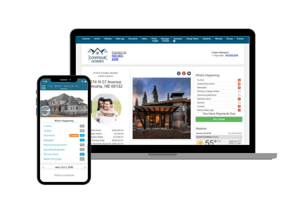 This construction project management software is built around organisation and collaboration. It eliminates the need to use half a dozen different platforms and programs by integrating it all into a single source of truth. Meaning you can dump those Excel Spreadsheets and stop rummaging through the pile of loose papers on your desk looking for that information that you swear you wrote down.


Think about it this way… If you were looking for an important document, would you find it more efficient to search for it within your project management system, or poke around in filing cabinets until you found the piece of paper you were after.
It's a no brainer, digitising and systemising processes will always be the solution for increased efficiency.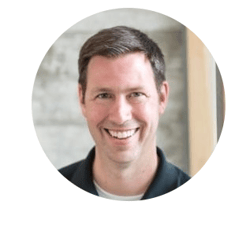 Matt Risinger, CEO of Risinger Build in Texas, United States, believes that on-boarding the Buildertrend software changed his business, "As a builder and remodeler I've had a lot of days where I have no idea where my jobs are at when it comes to schedule, budget or change orders that need to be signed by clients. This often leaves me feeling disorganised, however Buildertrend changed everything for my business."
Buildertrend is designed to help you:
Systemise your presale process so you can...
✓ Create, compare, send and store bids in one place.
✓ Build estimates, deliver customised proposals and sell more jobs.
✓ Create, capture and close all of your prospects.
✓ Implement email marketing with email blasts, automated campaigns and customised messages.
Buildertrend keeps all projects organised and running smoothly
✓ Buildertrend incorporates features such as daily logs to document and share information with employees, subcontractors, vendors and clients.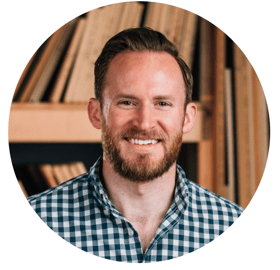 Nick Schiffer, Founder & Owner of NS Builders and member of the Association of Professional Builders, talked about Buildertrend's daily log function and how it helped align his team, "The daily log function on Buildertrend has been a huge asset for us because not only are we uploading photos, were also able to add commentary, track who is on site, weather conditions, and one of the great features is that we're able to share it with subcontractors AND our clients. So, no matter who's viewing it, we can all have visibility of what happened that day and we are all on the same page."
✓ Buildertrend allows you to create to dos for yourself, subcontractors, staff, as well as reminders for your clients. Given that Buildertrend is available as an app and therefore can be accessed from anywhere at any time, a lot of users enjoy the feature of being able to update their to-do lists on the go.
✓ The Buildertrend software has scheduling that allows you to make changes on the job and instantly notify stakeholders of changes to the schedule. These instant change notifications allow additional visibility for the client, subcontractors and builder.
✓ Another feature of Buildertrend's package is storage for documents and photos. Brad Leavitt, President at AFT Construction in Arizona, United States, talks about the benefits of a mobile system, "When I'm in the field and on the go, one thing that's great about the Buildertrend app is that it is mobile so as we take photos and videos, we can upload those direct from our phone or iPad straight into our projects."
✓ Contained within the portal is work in progress reports keeping your projects in check. By constantly updating the status of a job, the building team and customer can track progress and update timelines if setbacks arise.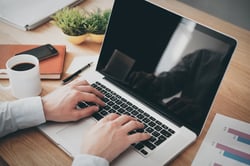 ✓ Buildertrend has an automation feature that can track warranty claims. This electronic warranty system makes it easy for builders, homeowners and trades to track claims from inception to completion via the portal.
Buildertrend has financial tools to help builders stay on track of their billing...
✓ The software assists with invoicing from estimates, change orders or customer selection sheets.
✓ Easily accept online payments and pay your subs.
✓ Create, get approval and receive payments of purchase orders.
✓ Budget and track labour time, bills and POs.
✓ Integrate with your accounting tools like Quickbooks and Chase.
✓ Manage all your lien waivers in one place.
✓ Create and deliver change orders.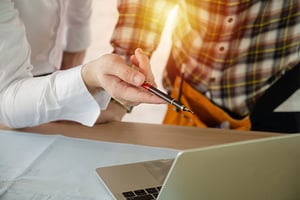 Matt Risinger, CEO of Risinger Build, discusses the increased efficiency around change orders for his business, "One of the first ah-ha moments for me on Buildertrend was the change order feature. This has absolutely revolutionised what we do when it comes to change orders. Now all of our field project managers can pull out their iPad or their phone, they can talk about the change order right there, they can document it, and the client can even sign it in the field, which means that were having expectation conversations earlier in the process and that means that at the end of the job, we actually get paid."

Buildertrend software allows you to keep your clients happy with...
✓ Customer logins so your clients have direct access to their project.
✓ Selections section so you clients can easily make choices and check pricing.
✓ Surveys and reviews that automatically send after construction is completed.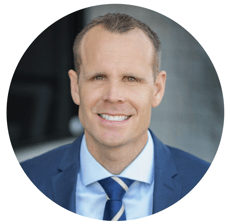 Brad Leavitt, President at AFT Construction, explains how customer expectations were maintained once he introduced Buildertrend to his building company. "In this day and age, our customers expect constant communication and all the information right at their fingertips, so one of the game changers for us has been the owner portal which allows us to update the schedule, the to-do lists, the budget, all the little nuances of any project, and it's at their fingertips."
One of the features about Buildertrend that customers love the most is the mobile app. This allows you, your staff, your subcontractors and your clients to access information about projects from any location, on many different devices.
With powerful features such as daily logs, photos and markup and to-do's, Buildertrend customers have said the app is "user friendly" and "simple to navigate".
One of the features within the app is the ability to schedule on the go on a shared calendar, making it easy to input ad-hoc events and make updates in real-time.
All users of the Buildertrend project management software can also opt in to receive push notifications from their device.
Buildertrend Reviews - What Our Members Think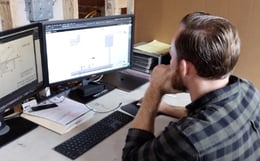 One of the Association of Professional Builders members, Nick from NS Builders, is a big advocate for Buildertrend. He said, "I love seeing the progress on my projects. As the owner, I'm usually focused on working on the company, but this allows me to stay connected to what's going on with our jobs." If you want to read more about Nick's success with Buildertrend, click here.
Nick's not the only one that raves about how Buildertrend has changed his business. Another member, Zak from ZJ Building, told us this project management software has completely changed his business by giving them a place to streamline all of their processes, helping them to increase their job by job profitability.
Here's what else our members have said about Buildertrend…
✓ "We love the communication it has with our vendors."
✓ "Daily Logs are great!"
✓ "All the subbies, as well as our wage carpenters, find it easy to use."
✓ "No labour hours are ever forgotten!"
✓ "Our clients love logging in to see what's happening. I don't make or receive nearly as many phone calls from clients as they know what's going on."
✓ "Variations are so easy to get signed."
However, some Buildertrend reviews aren't all rosy. There are some 'gotchas' that you need to be aware of.
Some users aren't a fan of the estimating functionalities, they say it 'needs a lot of work'. Some struggle to get it right and others turn to other options for their construction estimating software needs.
The pricing structure can be a bit hit or miss, depending on the number of projects you're completing and how big your team is. Buildertrend offers two fixed options: Core and Pro, but you might end up finding they don't exactly fit your requirements.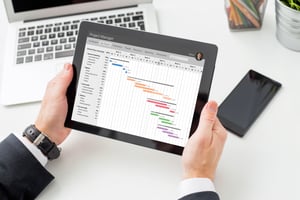 The Core Plan starts at $99USD per month for the first 3 months and increases to $299 thereafter, however this plan comes with limited features. Some of the features that Core Plan members will miss out on are selection bills, and purchase orders, RFIs (request for information), warranties, surveys, bids and change orders. The Pro Plan is $299 per month for the first 3 months ($499 thereafter), providing all of the standard features. A premium plan is also available for builders that wish to customise their plan to their company's needs.
Some users were concerned with Buildertrend setting a limit on the number of users for the lower end plan. For companies with many employees, it may become infeasible to pay for additional users. Other users have suggested being cautious of price increases, even for long standing customers. The good news, however, is that they offer the opportunity for you to get in touch with their team to create a customised package based on your business' needs.
We know it can be hard to digest many sources of information and feedback on construction project management software, so we have complied some of the benefits and downfalls of Buildertrend's construction management software for both builders and consumers: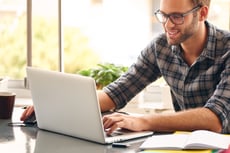 Benefits of Buildertrend for builders:
Builders enjoy being able to customise their software and view, to provide a tailored experience for their subcontractors and customers.
Many users have identified that Buildertrend is a great selling point for customers as it offers their clients a personal login to track the progress of the job. A member of the Association of Professional Builders said "It's a great selling point for clients to be able to give them a personal login to their project to see everything in one place, from schedule to invoicing.
Being cloud based and available to use on multiple devices, builders are able to update their jobs in real time rather than delaying data entry until they have access to the team spreadsheet or computer.
Having a folder system rather than a tag system means that sorting documents is easy and replicates a standard Google drive system which many builders may be more familiar with.
Builders enjoy utilising the photos and videos feature as it allows them to be specific about job details. For example: If one area of flooring needs to be extracted and repaired, a photo can be uploaded to the job with the exact area that needs restoring drawn on the photo for complete clarity and visibility of the request.

Free 24/7 support in multiple time zones and online tutorials.
By utilising the activity notes feature, builders can remember what they last discussed with their customer and therefore engage in better dialogue during a follow up.
As roles within a project evolve and change, builders enjoy being able to assign and remove users as needed within a job on Buildertrend.
Downfalls of Buildertrend for builders: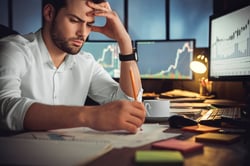 One downside to Buildertrend is adapting to the software and on-boarding the system amongst employees. Learning how to use a new software and transitioning files to the cloud takes time and builders have different digital capabilities. Adapting to new systems and processes can be challenging and time consuming.
Some builders have expressed that the software interface isn't user friendly and requires customisation that isn't involved in the basic plan.
When creating an estimate, if other users are also accessing the portal, issues can arise from multiple entries as the software capability may not be able to handle multiple users navigating the system at one time. Some users have also experienced problems when trying to refresh a page and losing the pending data.
Some builders have expressed that the data entry takes time in an already busy schedule. For small companies without a data entry employee, this just means more time out of the builder's day to enter in the data. Some users have found that there can be up to 6 or 7 selections that need to be made before some information is logged into the system.
Some users have identified that they aren't aware of an option to combine files with photos within one directory, which is sometimes preferred for certain jobs.
Builders have identified that if a user is added after a project is initially entered, this user isn't able to view previous logs or messages. As different stakeholders within a project need access and visibility at differing times throughout the process, not being able to share the full history of the job can lead to time wasted having to fill in the gaps for new users.
For example: If a customer wishes to add their partner to the Buildertrend software to view the project half way through the job, this person won't get the full story and timeline of events.
Now onto the pros and cons for the customer…
Benefits of Buildertrend for customers:
Live updates on changes ensure the customer is brought along the journey and kept in the loop regarding progress of the job and for any changes to the original schedule.
Customers can be added as users and don't need to pay additional fees to be within the builder's account.
Most users enjoy the visual layout of the program with features such as colour coding and drag and drop options. Users also enjoy being able to choose selections when in the design phase of the project and electronically sign for their selections such as product pricing.
Another feature enjoyed by Buildertrend customers is being able to add messages, comments, emails and job-specific information that is all automatically organised into one place.
Downfalls of Buildertrend for customers:
Some customers prefer updates via email or phone and find the system challenging to navigate and adapt to.
Learning the software takes time and may involve a certain level of digital literacy to truly benefit from the features.
Some customers have seen a drop in personal communication from their builder because they are assumed to be checking the portal for updates themselves.
Getting started with project management software?
While the Association of Professional Builders' has no direct affiliation with Buildertrend, before trying out the project management software we have provided some recommendations:
It is best to not try to integrate and roll out all Buildertrend features at once, it is recommended that you start with the important features for your company and add on as you go to allow your stakeholders to become familiar with the software.
Be cautious when processing software updates as this can be time consuming and potentially lead to the deletion of data and files if not properly saved prior.
It is advised that you speak with a member of the Buildertrend customer service team about the pain points of your current construction management process to determine what features are most appropriate for your organisation.
Allocate an appropriate amount of time to understand the software and factor in the time to input data to be sure you can accurately calculate your ROI.
Buildertrend offers a risk free 30 day free trial of their software so if you are unsure about your decision we recommend you try it first.
Buildertrend Learning Academy is a service offered by Buildertrend to advance your skills in the software in your own time and at your own pace. These educational courses focusing on their project management software allow you to upskill based on their features, your role within the business or if you're onboarding with their software for the first time. Buildertrend Learning Academy is free to all Buildertrend users and is available anytime, from anywhere.
In conclusion, whether you're building new homes or renovating existing homes, Buildertrend can, in one way or another, help you to streamline the processes in your business.
If you're keen to try Buildertrend in your building company, they offer a free demonstration of the software program here.