Have you ever heard of The Building Code?
No, we're not talking about some boring regulation or law, we're talking about construction project management software provider, Buildertrend's, podcast.
Featuring 30-minute episodes, released every week since April 2019, this is a podcast for all builders. The Building Code covers a range of topics related to running a building company.
As you know, the Association of Professional Builders is all about improving the construction industry for both builders and consumers, and after catching up with Tom, one of the hosts on The Building Code, we found this podcast is right there with us.
While there are some episodes about new features and benefits of Buildertrend (which can also be extremely useful if you do use the software), you don't need to be a Buildertrend user to benefit from their content. Tom and his co-host Paul talk about everything from business and financials to marketing and sales for building companies.
A Podcast Pulling Back The Curtain On The Construction Industry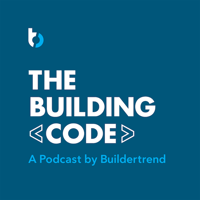 The Building Code offers a unique perspective into the 'behind the scenes' of running a building company. The quick, but insightful episodes feature guest appearances from builders just like you. These builders talk about their experiences, the good, the bad and the ugly, as well as the lessons they've learnt along the way. This transparency allows you to pull back the curtain on the construction industry and get an insight into what other builders are doing, the challenges they're facing and the successes they're experiencing.
For a 30-minute time investment each week, The Building Code shares helpful information with its hundreds of listeners. If you're willing to learn, this information can help you make positive changes in your building company that will help shape the construction industry. Nothing trumps experience, and hearing the struggles, successes and stories straight from the horse's mouth is the best way to learn.
A few members of the Association of Professional Builders have had their own episodes on The Building Code podcast too. In episode 78, Dallas, general manager of Haven Builders, joins Tom and Paul to talk about growth and success in building a business. Dallas shares stories about learning opportunities, communication and technology that's helped his business succeed. It's a two-parter as well, so make sure you tune into episode 79 afterwards to hear from Haven Builders design manager too.
The Building Code produced a few live episodes at the 2020 International Builders Show and another APB member, Nick Schiffer from NS Builders, joins for a live episode. You can tune into episode 52 to hear Nick's thoughts on how the construction industry can make improvements over the year.
What Other Builders Are Saying
Todd, a member of the Association Of Professional Builders, told us that he likes listening to The Building Code to get an idea on what other building companies are doing, as well as to get pro tips on how to make the most out of Buildertrend. He's not the only one that thinks this way either. When we caught up with co-host Tom, he said, "We can bring our expertise to it, but it's nice for builders to hear from builders who have walked in their shoes, who've struggled with the same things they've struggled with, or have had similar success."
Much like the Association of Professional Builders, The Building Code podcast was created to help change the perspective of builders and improve the industry for both builders and consumers. Whether you're a home builder or renovations specialist, there's something on this Podcast for every builder.
You can subscribe and listen to The Building Code wherever you get your podcasts, including iTunes, Spotify and Stitcher. Or, if you want to be featured as a guest builder, you can contact The Building Code here.