The Association of Professional Builders (APB) launched it's very own podcast in November 2021.
The Professional Builders Secrets Podcast brings together some of the best minds in the industry along with professional builders to share their experiences and provide valuable strategies to builders on how to operate and grow their building company's.
New Episodes Weekly
New episodes of the Professional Builders Secrets podcast are released weekly and cover a range of topics related to running a building company including construction financials, scaling a building company profitably, leadership, advanced sales skills and more.
APB has been helping builders systemise and grow their building company for more than seven years.
The team at APB have had the same mission since inception, to improve the construction industry for both builders and consumers. With over 500+ active members and 100+ private mentoring clients across 5 countries, the Association of Professional Builders are on their way to systemising 50,000 building companies by 2030.
This brand new podcast brings together all of the secrets that APB have acquired over the last 10 years working with the owners of custom home building companies, secrets that every builder needs to hear.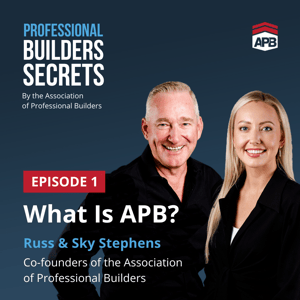 The series kicks off with Episode 1: What is APB? This episode hosts Co-founders of APB, Russ and Sky Stephens, share the story of how they created APB, identifying that they saw a gap in the market for an industry specific coaching program with proven systems to help builders become professional business people. The inaugural episode helps set the scene for the episodes that follow and highlights just how far the company has come.
Tye Alroe, owner of Alroe Constructions, joined the podcast early in the series to share the secrets that have led to his success.
Tye reveals that his building company was set to turn over $60million in revenue in 2021, but the journey wasn't always smooth sailing.
Tye provides valuable advice to builders who are just starting out or want to grow their building company.
Guests From The United States to New Zealand
"You've just got to keep on tearing it up every day. Make sure your main KPIs in your business are performing. Your sales, your operations. And just make sure you're staying ahead of the game." - Tye Alroe.
Other builders that made an appearance on the Professional Builders Secrets podcast in season one are Rob Carroll, owner of Carroll Constructions based in Louisiana, United States and Trevor Salter, owner of Salter Builders in Nelson, New Zealand.
Rob reveals that one of the pivotal moments of growth for his building company was realising the power behind automation and adopting systems.
Rob identified that too often, building companies try to reinvent the wheel without realising that there are templates, tools and resources that are ready to implement into your building company, you just have to find them.
The Professional Builders Secrets podcast interviews industry leaders and experts in many different niches to uncover new technologies, trends and resources within the construction industry that builders should be aware of.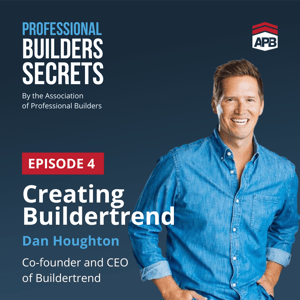 During season one of the podcast, Co-founder of Buildertrend, Dan Houghton, came onto the show to reveal his story about creating Buildertrend.
Throughout this episode, Dan shares some of the things that builders need to know when running their building company and how the software he co-created continues to help thousands of builders daily with their project management.
By subscribing to Professional Builders Secrets, builders are able to take advantage of the knowledge and expertise of APB's Executive Business Coaches as they come onto the podcast to share advice for building company owners.
Throughout the Professional Builders Secrets podcast, Head Coach at APB, Andy Skarda, revealed the five things that every successful building company must have.
The Executive Business Coaches at APB provide one-on-one private mentoring to building company owners, helping them to systemise their operations and strategically grow their business safely & securely.
Listeners Get Expert Secrets From Executive Business Coaches
Listeners of the podcast are able to gain insight into the extensive knowledge and experience of the coaches and implement their advice and strategies into their own building companies.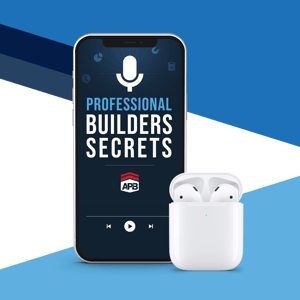 As the podcast continues, it will host more exciting new guests including industry professionals such as award winning copywriter Scott Bywater, VP of Sales at CBUSA, Ryan Lipchek and female building company owner Rachel Boyer.
Here's what what builders have to say about the Professional Builders Secrets podcast:
"A specialised podcast made just for the owners of custom home building companies. Extraordinary guests, valuable content and amazing stories from other builders are shared."
A Podcast Well Overdue For This Industry
"Very well informed, and thought leading advice on growing a successful and resilient building company. Enjoyed the passion in this, can't say I've listened to another podcast with such tangible information. Well overdue for this industry!"
"Amazing podcast specifically for builders. Love the variety of information and hidden gems that are uncovered in every episode."
"Highly recommend this Podcast if you own a custom home building company. Very high quality information shared. Thanks APB"
"I have to say, I was a little sceptical when I saw APB jumped on the podcasting bandwagon. I'm a few episodes in and I'm hooked! I think the best part about this podcast in particular is how different each episode is. Tye's story is not only inspiring, he's relatable and the interviews with the coaches are incredibly insightful as to what APB actually do. Great content..Highly recommend"
In summary, there isn't another podcast out there where the content is so specifically tailored for builders.
Often it's hard to find the time to read what's happening in industry news, or seek out the success stories of other builders to see what you can learn from them, or even invest in personal development training to become a better businessman, but that's where this podcast changes the game.
Professional Builders Secrets is easy to digest, can be listened to while on the go and provides strategies for builders to instantly implement into their building company.
Haven't had the chance to listen yet?
Click the special link below to access all of the live episodes, ready for your listening pleasure: